my-VITA is a Mahara based e-Portfolio which is connected both to an Moodle LMS and the validation software.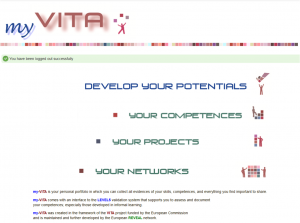 We offer my-VITA to our members as a multifunctional tool which provides the following main functions:
my-VITA is a virtual hub – a social media platform to

Show and document skills and competences
Develop project ideas and share them with your teams
Network with partners and friends
my-VITA is a personal portfolio in which you can collect all evidences of skills, competences and everything you find important to share.
create your personal content (profile, multimedia-files, EUROPASS CV etc.),
publish them in portfolios (on pages and collections of pages) and
share them with with your groups (friends, colleagues, networks).
my-VITA is also the development space for your projects – maybe you want to develop your own business, create a collaboration with partners from other places, develop a European development plan or a funding project.
my-VITA also supports your private and professional networks, it helps you to keep contact and communicate, to share ideas as well as all kind of multimedia materials.
Since 2013 my-VITA has been facilitating learning contents and portfolios for 950 users and 20 LLP, ERASMUS+, INTERREG and EYE projects.