On Tuesday 13 July 2021 from 13:30 CEST, KMOP – Centre for Social Action and Innovation from Greece – invites you to the online event "How to prevent violent radicalization in schools? The Power of Education", organised in the framework of the European Erasmus+ project PRACTICE – Preventing Radicalism through Critical Thinking Competences.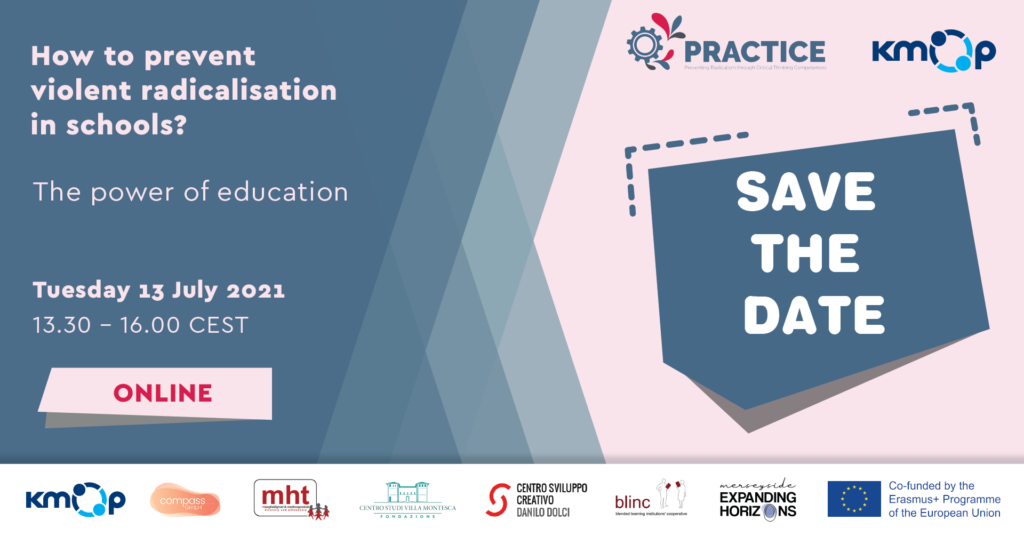 This final conference will mark the end of the project. This event will give us the opportunity to present the work done during the three years of the project as well as to hear first feedback from pilots of the material (such as the workshop conducted by blinc as a podcast).
In addition, the conference aims to raise awareness of training and radicalism prevention and to ensure that the results of PRACTICE are used at European level. The event will also have a strong impact on policy makers as it will present results and policy recommendations.
Target group:
Teachers and educational support staff
School leaders
Policy makers
Wider school community
3rd sector organisation & businesses working on relevant fields and other stakeholders
At the centre of the discussion will be topics such as:
The role of education in the prevention of violent radicalisation
Safeguarding and early detection
Exploring controversial issues with your students in a «safe» way
To register for the conference please use the link to the PRACTICE website.