Dear all,
Today, on the last day of 2012 we submitted the interim report of the VITA project.
A good opportunity to look back on what happened and what we achieved in 2012 in the framework of our REVEAL community.
First of all – we started the VITA project and with it some new interesting offers,
e.g. the VITA-e-Portfolio (www.my-vita.eu ) for evidencing social, personal and organisational competence developments with a EUROPASS plugin.
The VIP project was finalised and received high scores as well as the ACT-NET project that was is one of 39 "good practice projects" awarded by the QALLL network for Quality assurance in LLL.
The interim report of VILMA (LEVEL5 in mobility actions) was also well rated and we finalised the project in a great conference in Vilnius, Lithuania.
However, we had some draw-backs in 2012 – due to a quite strange policy we lost at least one project that we will again submit in January 2013 and because of a long sick leave of our chief programmer we lost approximately half a year for the new LEVEL5 software development.
BUT: we are working full speed on it and the release is planned for spring 2013.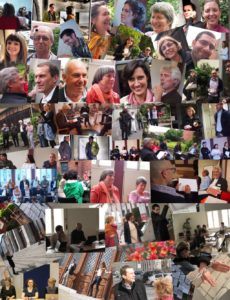 In 2012 we developed and carried out several LEVEL5 courses in Göttingen, Ancona, Rome and Vilnius and Paris and applied the methodology in different projects and learning contexts (e.g. in climate friendly management in schools, in a Comenius network, during Grundtvig training days and a Grundtvig course).
As announced in Göttingen in June we worked quite a bit on the REVEAL valorisation strategy and came across the concept of the "LEVEL5 Learning suites" which are easy to use learning and validation kits for different informal learning contexts like "mobility learning", "volunteering" or "learning at the workplace".
We will send you the valorisation concept in January together with a forecast for the next REVEAL meeting which is planned to be the official (legal) inauguration of our network.
This meeting will probably take place in June again – we are very much looking forward to meeting you there again!!!
Meanwhile, enjoy the impressions from some of our last years' meetings!
Kind regards
Tim