Dear all,
2017 turned out as turbulent as expected. Politically, things have developed in rather weird directions: there is the Man with the Tin-Foil Hat in the White House who wants to make his country great again by reinventing the fossil coal economy. There is a British Government stumbling upon a completely unclear BREXIT pathway without having any clue where this should lead to. The Visegrad member states are afraid of refugees that they have never encountered before, and all over Europe right wing parties and isolationists have been getting stronger.
Against the background of these setbacks, innovation and sustainable development are more needed than ever. However, we do not only need end-of-pipe technologies and top down driven regulations but also smart initiatives and projects that start on a local level and enable stakeholders and citizens to participate in economic, ecological and social (societal) developments.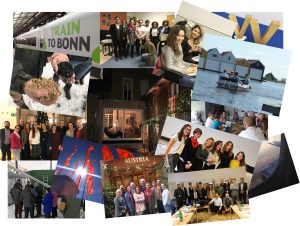 In 2017, our community has tried to contribute to such approaches with projects on sustainable development and informal learning initiatives in different fields:
With our European partners we have developed the RE-DIRECT project to create alternative coal feedstock for alternative coal products. We joined the large REBUS project to create and validate entrepreneurship competences at universities in Balkan countries and Russia. We set up a system to support enterprises to integrate refugees (REST-eu.org), and worked in teams to introduce competence oriented learning and validation in intercultural, cultural and ecological projects. Last but not least we completed the European Experiential Learning Lab for Soil Science (EELLSS.eu) as practical learning space in schools in eight European countries.
Eventually, we also fulfilled the promise that we gave in the Thessaloniki conference carried out in 2016 to create a new legal body with a low entry threshold – the REVEAL association. It offers a free membership for individuals and institutions that are interested in competence oriented learning, didactics, mathetics and informal learning and validation.
REVEAL will be further developed to offer its services connected to the LEVEL5 approach to its members and beyond, be it holistic learning and validation concepts or innovative learning technology solutions (from basic infrastructure to fully-fledged multimedia learning units). It will also run a platform for Continuing Professional Development (CPD) targeting especially the ERASMUS+ KA1 community (Education institutes, course providers and educational professionals).
On higher education level we are aiming to integrate LEVEL5 in a first German Master Course on Innopreneurship.
Furthermore, we were present at the world climate conference (COP23) in Bonn in November 2017 where our staff shot approximately 25 videos from participants who are committed to combat climate change. In this spirit we will create a platform for alternative coal products based on renewable carbon. It will be inaugurated probably in autumn 2018 during the RE-DIRECT conference in Baden-Baden, Germany.
In 2018, we will certainly develop new projects, this time with a focus on political and civic education and continue to fine-tune and customise our holistic learning and validation approach. Those of you who would like to join us for these ventures – please drop us a line – best by the end of January.
We would like to thank all our staff members, partners and project teams for the great time we had together in 2017.
We are looking forward to our collaboration and joint ventures in 2018!
Tim