Happy New year to all of you!
Looking back onto 2018 gives me some mixed feelings.
I just had a look at last years' season's greetings and must admit that things haven't developed in an extraordinarily positive direction – neither related to international nor European affairs.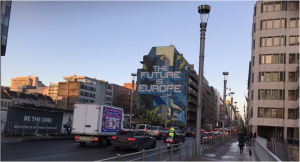 Right wing movements are getting stronger and European values being ignored and trampled underfoot, increasing conflicts and decreasing cooperation became a reality in a Europe which has to re-define its identity. Will we go back to a utilitarian, solely economy driven stage of a lose coupling of national states or will we somehow succeed to get even more cohesion and cooperation in Europe?
I am personally not very optimistic as far as future political and formal unification processes are concerned. Not much help is expected from "the media" in times of populist screamers, fake news and total ignorance towards global issues which would afford joint efforts and cooperation.
Well, there are also quite encouraging developments, however, they can be found beyond the mainstream in the rather non-formal and informal niches in sustainable and liberal environments.
Young, autonomous people are more and more active and start their own ventures beside traditional work trajectories. Enterprises have become more aware of their social responsibility and take actions for a more sustainable development –in regard to societal and environmental engagement, age sensitive learning and working. Despite the unbelievable change of policy related to the rescue of human beings in the Mediterranean Sea, there are wonderful initiatives for integration of migrants in Europe. And there are also quickly growing initiatives to reduce the utilisation of fossil coal and initial steps to set up an "alternative carbon economy".
In regard to these developments, 2018 was a year with potential to make Europe great again – of course along other values and development trajectories as the ones of Mr Big Mouth on the other side of the widening Atlantic.
Some of our 2018 highlights
In the REBUS project (www.rebusproject.net) 120 highly motivated students travelled from Balkan countries and Russia to three European destinations to collaborate along an innovative Entrepreneurship programme based on the connection of the EntreComp system which is the European Entrepreneurship Competence Framework with our LEVEL5 system and instruments. Through REBUS we now have a fully operational teaching, learning and validation system for entrepreneurial competence development in Higher Education and beyond.

In REBUS we also perfected our LEVEL5 Learning Technologies consisting of a customised open source e-Portfolio, a Learning Management System and the LEVEL5 validation software. They are now in use in nine universities and another five will follow in 2019. We are offering this holistic learning suite and the related services to our members from 2019 onwards.
Another important technical development took place in the BADGES project.

Together with experts from Alden Biesen, Belgium and the National Research Centre for Learning Technologies (CNR), Palermo our team developed an app for mobile learning in informal/non-formal learning settings such as Cultural Heritage sites, Mobility Learning or in integration approaches on the job. Have a look at the BADGES' trailer from the European Commission.
We are proud having been part of the LISTEN project (https://listen.bupnet.eu/) which has developed "applied storytelling" in its many forms and functions as educational approach for the work with refugees, including radio shows and a CPD for storytelling for adult educators. The final conference in Palermo was an unforgettable event with an award ceremony for the two best out of 18 stories of refugees and migrants European wide.
We are very happy that the Time for Society (T4S) project has started in 2018, based on the extremely successful approach of our partner Trendhuis to connect Continuing Professional Development in big enterprises with CSR projects (http://time4society.com/en/ ). T4S Europe will roll out the project in six European member states.
Eventually an example of sustainable development: The RE-DIRECT project, which converts waste biomass into alternative coal products, made important developments in 2018 in regard to the production of a carbon feedstock to substitute coals from fossil and rainforest sources. Our Irish partners organised a very successful conference in West Ireland.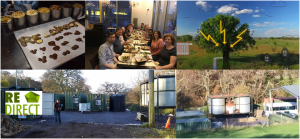 Have a look at our trailer: "Welcome to Utopia".
We invite everybody interested in this topic to the big conference with a fair for alternative carbon products in Baden-Baden, Germany on 26th/27th February.
Talking about conferences: Save the date for the 9th REVEAL Conference in Thessaloniki, 26th and 27th September 2019.

There you will meet our team members from Germany, Italy and Wales and our community members from now 27 countries.
A big thank you for your commitment and professionalism and my very best wishes for a peaceful, successful and again very cooperative year 2019.
All the best
Tim