T4SD – Time 4 Sustainable Development
In January 2020, the T4SD project had its official kick-off meeting in Loughborough, UK.
With a similar focus as the T4S project, the follow-up project T4SD aims to support organisations and companies with regard to the 17 SDGs (Sustainable Development Goals) and the improvement of CSR commitment towards them.
The team from 6 European nations will develop new methods and contents in the following 2 years, make them available and support companies in the long term in accordance with the idea of sustainability.
Further information and development will be available here and later on the website which is already under development.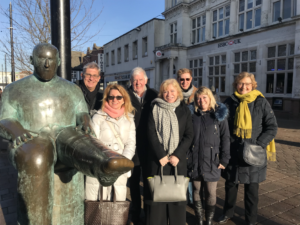 The partnership covers 6 European countries from Great Britain to Italy and from Belgium to Bulgaria:
Lead Partner: Apricot, United Kingdom
blinc eG, Germany
Catro, Bulgaria
Die Berater, Austria
Smart Revolution, Italy
Trendhuis; Belgium
Stay tuned for further progress!